Here we list the latest scientific publications by researchers at KMC.
2021
Peer-Reviewed Articles
Paula Squinca, Linn Berglund, Kristina Hanna, Jonathan Rakar, Johan Junker, Hazem Khalaf, Cristiane S. Farinas, Kristiina Oksman
Multifunctional Ginger Nanofiber Hydrogels with Tunable Absorption: The Potential for
Advanced Wound Dressing Applications
Biomacromolecules, 2021
https://doi.org/10.1021/acs.biomac.1c00215

Ida Molin, Liselott Fornander, Peter Berggren,
An analysis of trauma team communication using the verbal response mode taxonomy.
Surgery, 2021, available online June 30.
https://doi.org/10.1016/j.surg.2021.05.043
Friberg M, Jonson C-O, Jaeger V, Prytz E.
The Effects of Stress on Tourniquet Application and CPR Performance in Layperson and Professional Civilian Populations.
Human factors. May 27, 2021.
doi:10.1177/00187208211021255
Francoise Mukagaju, Lotta Velin, Elizabeth Miranda, Ian Shyaka, Yves Nezerwa, Charles Furaha, Faustin Ntirenganya, Robert Riviello, Laura Pompermaier,
What is Known About Burns in East Africa? A Scoping Review
Journal of Surgical Research, Volume 266, 2021, published online May 12.
https://doi.org/10.1016/j.jss.2021.03.055
Hodza-Beganovic, R., Berggren, P., Hugelius, K., Edelbring, S.
Survey-based experiential learning as a new approach to strengthening non-technical skills in LMIC health care settings.
BMC Medical Education, 2021. Published April 26.
https://doi.org/10.1186/s12909-021-02619-6
Gauthier Bahizire Murhula, Patrick Bugeme Musole, Bienfait Nama Kafupi, Florent Tshibwid A Zeng, Daniel Garhalangwamuntu Mayeri, Fabrice Gulimwentuga Cikomola, Laura Pompermaier,
Factors associated with outcomes after burn care: A retrospective study in Eastern Democratic Republic of Congo.
Journal of Burn Care & Research, 2021. Published March 27.
https://doi.org/10.1093/jbcr/irab051
Ydenius V, Larsen R, Steinvall I, Bäckström D, Chew M, Sjöberg F.
Impact of hospital type on risk-adjusted, traffic-related 30-day mortality: a population-based registry study.
Burns Trauma. 2021. Published March 6.
https://doi.org/10.1093/burnst/tkaa051
Alexander W Hooke, M Susan Hallbeck, Erik Prytz, Carl-Oscar Jonson, Bethany R Lowndes.
Mechanical Assessment of Tissue Properties During Tourniquet Application
Military Medicine, Volume 186, Issue Supplement_1, January-February 2021, Pages 378–383. Published January 25.
https://doi.org/10.1093/milmed/usaa266
Ashley T, Ashley H, Wladis A, et al.
Outcomes After Elective Inguinal Hernia Repair Performed by Associate Clinicians vs Medical Doctors in Sierra Leone: A Randomized Clinical Trial.
JAMA Netw Open. 2021;4(1):e2032681. Published January 11.
doi:10.1001/jamanetworkopen.2020.32681
Thematic contributions
Nordenstedt H, Holmer H, Agardh A, Andersson P, Ekström A-M, Ivarsson A, Krantz G, Mellander L, Målqvist M, Preet R, Shakely D, Sinabulya H.
Global hälsa på läkarutbildningen igår, idag och imorgon.
Socialmedicinsk tidskrift 2/2021;232-243
2020
Peer-Reviewed Articles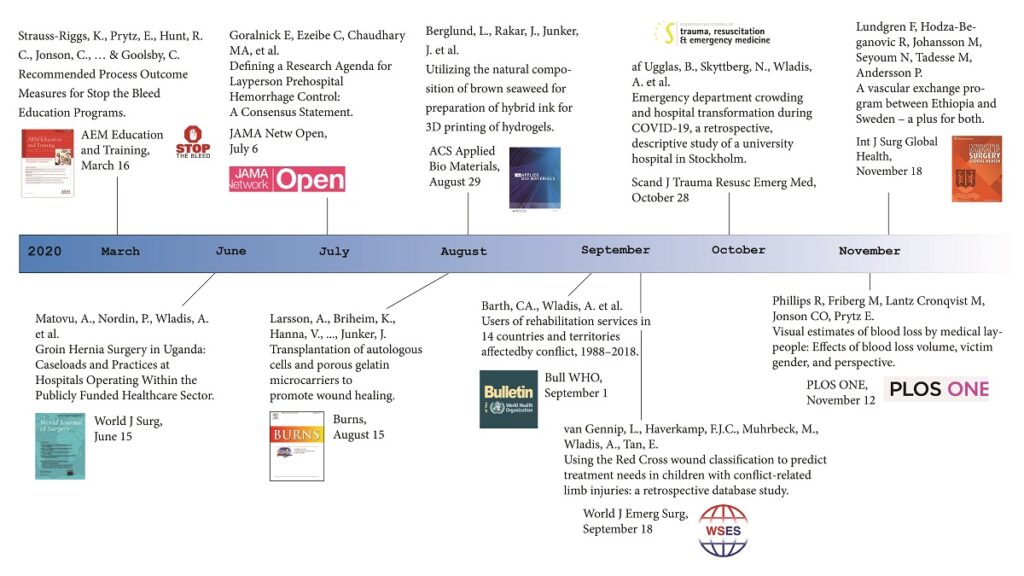 Risto A, Hallböök O, Andersson P, Sjödahl R, Myrelid P.
Long-term Follow-up, Patient Satisfaction and Quality of Life for Patients With Kock's Continent Ileostomy.
Diseases of the Colon and Rectum. 2020 Dec. Published December 1.
DOI: 10.1097/dcr.0000000000001823.
Lundgren F, Hodza-Beganovic R, Johansson M, Seyoum N, Tadesse M, Andersson P.
A vascular exchange program between Ethiopia and Sweden – a plus for both.
International Journal of Surgery: Global Health: 2020 Nov. 3(6) p e43. Published November 18.
doi: 10.1097/GH9.0000000000000043
Phillips R, Friberg M, Lantz Cronqvist M, Jonson CO, Prytz E (2020)
Visual estimates of blood loss by medical laypeople: Effects of blood loss volume, victim gender, and perspective.
PLOS ONE 15(11): e0242096. Published November 12.
https://doi.org/10.1371/journal.pone.0242096
Miranda E, Velin L, Ntirenganya F, Riviello R, Mukagaju F, Shyaka I, Nezerwa Y, Pompermaier L.
Recording patient data in burn unit logbooks in Rwanda – who and what are we missing?
J Burn Care Res. 2020 Oct 31:iraa198.
doi: 10.1093/jbcr/iraa198.
af Ugglas, B., Skyttberg, N., Wladis, A. et al.
Emergency department crowding and hospital transformation during COVID-19, a retrospective, descriptive study of a university hospital in Stockholm, Sweden.
Scand J Trauma Resusc Emerg Med 28, 107 (2020). Published October 28.
https://doi.org/10.1186/s13049-020-00799-6
Nikki Allorto, Camerin A. Rencken, Shelley Wall & Laura Pompermaier
Factors impacting time to surgery and the effect on in-hospital mortality.
Burns. 2020 Oct 3:S0305-4179(20)30523-4.
doi: 10.1016/j.burns.2020.09.002.
van Gennip, L., Haverkamp, F.J.C., Muhrbeck, M., Wladis, A., Tan, E.
Using the Red Cross wound classification to predict treatment needs in children with conflict-related limb injuries: a retrospective database study.
World J Emerg Surg 15, 52 (2020). Published September 18.
https://doi.org/10.1186/s13017-020-00333-0
Cornelia A Barth, Andreas Wladis, Catherine Blake, Prashant Bhandarkard, Cliona O'Sullivan
Users of rehabilitation services in 14 countries and territories affected by conflict, 1988–2018
Bull World Health Organ 2020;98:599–614. Published September 1.
doi: http://dx.doi.org/10.2471/BLT.19.249060
Linn Berglund, Jonathan Rakar, Johan PE Junker, Fredrik Forsberg, and Kristiina Oksman
Utilizing the natural composition of brown seaweed for preparation of hybrid ink for 3D printing of hydrogels
ACS Applied Bio Materials 2020, 3, 9, 6510–6520. Published August 29.
DOI: 10.1021/acsabm.0c00920
Alexander P. Larsson, Kristina Briheim, Victor Hanna, Karin Gustafsson, Annika Starkenberg, Hans N. Vintertun, Gunnar Kratz, Johan P.E. Junker,
Transplantation of autologous cells and porous gelatin microcarriers to promote wound healing.
Burns, 2020, available online August 15.
https://doi.org/10.1016/j.burns.2020.08.003
Goralnick E, Ezeibe C, Chaudhary MA, et al.
Defining a Research Agenda for Layperson Prehospital Hemorrhage Control: A Consensus Statement.
JAMA Netw Open. 2020;3(7):e209393. Published July 6.
doi:10.1001/jamanetworkopen.2020.9393
Matovu, A., Nordin, P., Wladis, A., Ajiko MM, Löfgren J.
Groin Hernia Surgery in Uganda: Caseloads and Practices at Hospitals Operating Within the Publicly Funded Healthcare Sector.
World J Surg (2020). Published June 15.
https://doi.org/10.1007/s00268-020-05633-9
Strauss‐Riggs, K., Kirsch, T. D., Prytz, E., Hunt, R. C., Jonson, C., Krohmer, J., Nemeth, I., & Goolsby, C.
Recommended Process Outcome Measures for Stop the Bleed Education Programs.
AEM Education and Training, Published online March 16.
https://doi.org/10.1002/aet2.10443
Conference Proceedings
Andersson Granberg, T., Jonson, C.-O., Prytz, E., Steins, K., & Waldemarsson, M. (2020). Sensor requirements for logistics analysis of emergency incident sites. The 17th International Conference on Information Systems for Crisis Response and Management (ISCRAM), Blacksburg, VA, USA, May 2020.
Prytz, E., Grönbäck, A.-M., Steins, K., Goolsby, C., Andersson Granberg, T., & Jonson, C.-O. (2020). Evaluating the Effect of Bleeding Control Kit Locations for a Mass Casualty Incident Using Discrete Event Simulation. The 17th International Conference on Information Systems for Crisis Response and Management (ISCRAM), Blacksburg, VA, USA, May 2020.
Rachel Phillips, Marc Friberg, Mattias Lantz Cronqvist, Carl-Oscar Jonson & Erik Prytz. Visual Blood Loss Estimation Accuracy: Directions for Future Research Based on a Systematic Literature Review​. The 64th HFES (Human Factors and Ergonomics Society) International Annual Meeting.
Reports
Prytz, E. & Lönnqvist, S.
Rapport slutkonferens projekt blåljus : Konsensus om utbildningssamverkan
Report MSB: MSB1485