Here we list the latest scientific publications by researchers at KMC.
2022
Peer-Reviewed Articles
Yves Nezerwa, Elizabeth Miranda, Lotta Velin,…, Laura Pompermaier
Referral of Burn Patients in the Absence of Guidelines: A Rwandan Study.
Journal of Surgical Research VOLUME 278, P216-222, OCTOBER 01, 2022. Published May 25.
https://doi.org/10.1016/j.jss.2022.04.066
Graner M, Buda AM, Moura CB, … Pompermaier, L. .. et al.
Is authorship by women in Brazilian academic surgery increasing? A five-year retrospective analysis.
PLOS Glob Public Health 2(4): e0000294. Published April 24.
https://doi.org/10.1371/journal.pgph.0000294
Haverkamp, F.J.C., van Leest, T.A.J., Muhrbeck, M., Hoencamp, R., Wladis, A & Tan, E. CHT.
Self-perceived preparedness and training needs of healthcare personnel on humanitarian mission: a pre- and post-deployment survey.
World J Emerg Surg 17, 14 (2022). Published March 5.
https://doi.org/10.1186/s13017-022-00417-z
Bäckström, D., Wladis, A.
A cohort study of trauma patients in Sweden during the first months of the COVID-19 pandemic: a small reduction in trauma admissions.
Scand J Trauma Resusc Emerg Med 30, 12 (2022). Published February 19.
https://doi.org/10.1186/s13049-022-01001-9
Spreco, A., Jöud, A., Eriksson, O., Soltesz, K., Källström, R., Dahlström, Ö., Eriksson, H., Ekberg, J., Jonson, C.-O., Fraenkel, C.-J., Lundh, T., Gerlee, P., Gustafsson, F., & Timpka, T.
Nowcasting (Short-Term Forecasting) of COVID-19 Hospitalizations Using Syndromic Healthcare Data, Sweden, 2020.
Emerging Infectious Diseases (2022) 28(3). Published January 31.
https://doi.org/10.3201/eid2803.210267
Maria Luíza Barreto Cazumbá, Alexandra M Buda, Marcela M Bittencourt, Carolina Moura, Paula Braga, Alexis N Bowder, Daniel Scott Corlew, Fabio Botelho, Lucas Magalhães, Laura Pompermaier.
The Use of Alcohol as a Disinfectant During the Pandemic and Flame Burns: A Brazilian Study,
Journal of Burn Care & Research, 2022. Published January 28.
https://doi.org/10.1093/jbcr/irac011
Ajiko, M.M., Weidman, V., Nordin, P., Wladis, A., Löfgren, J.
Prevalence of Paediatric Surgical Conditions in Eastern Uganda: A Cross-Sectional Study.
World J Surg (2022). Published Jan 1.
https://doi.org/10.1007/s00268-021-06378-9
Editorial
Velin L, Van Daalen K, Guinto R, et al.
Global health educational trips: ethical, equitable, environmental?
BMJ Global Health 2022;7:e008497. Published April 22.
http://dx.doi.org/10.1136/bmjgh-2022-008497
Lotta Velin, Adriana C. Panayi, Iris Lebbe, Emmanuelle Koehl, Gauthier Willemse, Dominique Vervoort, Global surgery education in Europe: a landscape analysis
BJS Open, Volume 6, Issue 1, February 2022, zrac001. Published February 2.
https://doi.org/10.1093/bjsopen/zrac001
Conference proceedings
Björnqvist, A., Friberg, M., Jonson, C.-O., Pettersson, J., & Berggren, P. (2022). An Analysis of a Swedish Medical Command and Control System's Situation Reports from the COVID-19 Pandemic. ISCRAM2022.
Lindhagen, A., Björnqvist, A., & Berggren, P. (2022). A meta-evaluation of Swedish evaluations of COVID-19 pandemic management. ISCRAM2022.
2021
Peer-Reviewed Articles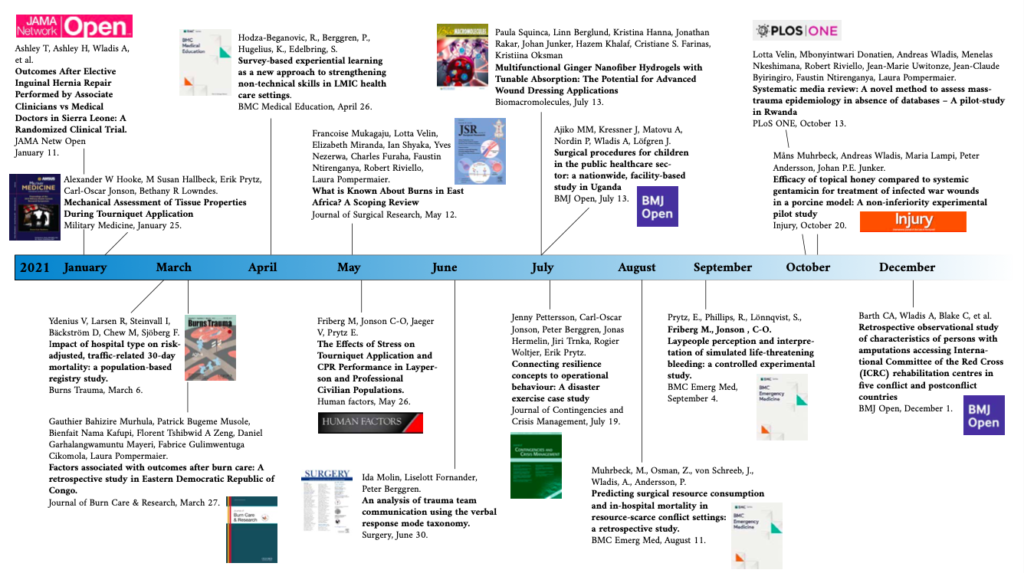 Barth CA, Wladis A, Blake C, et al.
Retrospective observational study of characteristics of persons with amputations accessing International Committee of the Red Cross (ICRC) rehabilitation centres in five conflict and postconflict countries
BMJ Open 2021;11:e049533. Available online December 1.
doi: 10.1136/bmjopen-2021-049533
Måns Muhrbeck, Andreas Wladis, Maria Lampi, Peter Andersson, Johan P.E. Junker
Efficacy of topical honey compared to systemic gentamicin for treatment of infected war wounds in a porcine model: A non-inferiority experimental pilot study
Injury Published October 20.
https://doi.org/10.1016/j.injury.2021.10.019
Lotta Velin, Mbonyintwari Donatien, Andreas Wladis, Menelas Nkeshimana, Robert Riviello, Jean-Marie Uwitonze, Jean-Claude Byiringiro, Faustin Ntirenganya, Laura Pompermaier
Systematic media review: A novel method to assess mass-trauma epidemiology in absence of databases – A pilot-study in Rwanda
PLoS ONE Published October 13.
https://doi.org/10.1371/journal.pone.0258446
Prytz, E., Phillips, R., Lönnqvist, S., Friberg M., Jonson , C-O.
Laypeople perception and interpretation of simulated life-threatening bleeding: a controlled experimental study.
BMC Emerg Med 21, 100 (2021). Published September 4.
https://doi.org/10.1186/s12873-021-00496-2
Muhrbeck, M., Osman, Z., von Schreeb, J., Wladis, A., Andersson, P.
Predicting surgical resource consumption and in-hospital mortality in resource-scarce conflict settings:
a retrospective study.
BMC Emerg Med 21, 94 (2021). Published August 11.
https://doi.org/10.1186/s12873-021-00488-2
Jenny Pettersson, Carl-Oscar Jonson, Peter Berggren, Jonas Hermelin, Jiri Trnka, Rogier Woltjer, Erik Prytz
Connecting resilience concepts to operational behaviour: A disaster exercise case study
Journal of Contingencies and Crisis Management, 2021. Available online July 19.
https://doi.org/10.1111/1468-5973.12373
Ajiko MM, Kressner J, Matovu A, Nordin P, Wladis A, Löfgren J.
Surgical procedures for children in the public healthcare sector: a nationwide, facility-based study in Uganda
BMJ Open 2021;11:e048540. Published July 13.
doi: 10.1136/bmjopen-2020-048540
Paula Squinca, Linn Berglund, Kristina Hanna, Jonathan Rakar, Johan Junker, Hazem Khalaf, Cristiane S. Farinas, Kristiina Oksman
Multifunctional Ginger Nanofiber Hydrogels with Tunable Absorption: The Potential for
Advanced Wound Dressing Applications
Biomacromolecules, 2021, 22, 8, 3202–3215. Published July 13.
https://doi.org/10.1021/acs.biomac.1c00215

Ida Molin, Liselott Fornander, Peter Berggren,
An analysis of trauma team communication using the verbal response mode taxonomy.
Surgery, 2021 Jun 30;S0039-6060(21)00528-6. Available online June 30.
https://doi.org/10.1016/j.surg.2021.05.043
Friberg M, Jonson C-O, Jaeger V, Prytz E.
The Effects of Stress on Tourniquet Application and CPR Performance in Layperson and Professional Civilian Populations.
Human factors 2021. Available online May 26.
https://doi.org/10.1177%2F00187208211021255
Francoise Mukagaju, Lotta Velin, Elizabeth Miranda, Ian Shyaka, Yves Nezerwa, Charles Furaha, Faustin Ntirenganya, Robert Riviello, Laura Pompermaier,
What is Known About Burns in East Africa? A Scoping Review
Journal of Surgical Research, Volume 266, 2021. Published May 12.
https://doi.org/10.1016/j.jss.2021.03.055
Hodza-Beganovic, R., Berggren, P., Hugelius, K., Edelbring, S.
Survey-based experiential learning as a new approach to strengthening non-technical skills in LMIC health care settings.
BMC Medical Education, 2021. Published April 26.
https://doi.org/10.1186/s12909-021-02619-6
Gauthier Bahizire Murhula, Patrick Bugeme Musole, Bienfait Nama Kafupi, Florent Tshibwid A Zeng, Daniel Garhalangwamuntu Mayeri, Fabrice Gulimwentuga Cikomola, Laura Pompermaier,
Factors associated with outcomes after burn care: A retrospective study in Eastern Democratic Republic of Congo.
Journal of Burn Care & Research, 2021. Published March 27.
https://doi.org/10.1093/jbcr/irab051
Ydenius V, Larsen R, Steinvall I, Bäckström D, Chew M, Sjöberg F.
Impact of hospital type on risk-adjusted, traffic-related 30-day mortality: a population-based registry study.
Burns Trauma. 2021. Published March 6.
https://doi.org/10.1093/burnst/tkaa051
Alexander W Hooke, M Susan Hallbeck, Erik Prytz, Carl-Oscar Jonson, Bethany R Lowndes.
Mechanical Assessment of Tissue Properties During Tourniquet Application
Military Medicine, Volume 186, Issue Supplement_1, January-February 2021, Pages 378–383. Published January 25.
https://doi.org/10.1093/milmed/usaa266
Ashley T, Ashley H, Wladis A, et al.
Outcomes After Elective Inguinal Hernia Repair Performed by Associate Clinicians vs Medical Doctors in Sierra Leone: A Randomized Clinical Trial.
JAMA Netw Open. 2021;4(1):e2032681. Published January 11.
doi:10.1001/jamanetworkopen.2020.32681
Conference Proceedings
J Gonzalez, C Eden, E Abildsnes, M Hauge, M Trentin, L Ragazzoni, P Berggren, CO Jonson, AA Abdelgawad
Elicitation, analysis and mitigation of systemic pandemic risks
WiP Paper – Planning, Foresight, and Risk Analysis
Proceedings of the 18th ISCRAM Conference – Blacksburg, VA, USA May 2021
Thematic contributions
Wikman A, Aspevall Diedrich B, Norda R, Bäckström D, Wladis A, Nimberger Hansson P.
Blodförsörjning vid katastrofer – en nationell beredskap behövs
Läkartidningen, 2021,118:20149
Nordenstedt H, Holmer H, Agardh A, Andersson P, Ekström A-M, Ivarsson A, Krantz G, Mellander L, Målqvist M, Preet R, Shakely D, Sinabulya H.
Global hälsa på läkarutbildningen igår, idag och imorgon.
Socialmedicinsk tidskrift 2/2021;232-243